A new multi-lingual church in Northern Virginia.
Join us on Sundays
Starting July 11!
About Us
What: One Voice Fellowship is a new multi-lingual church in Northern Virginia, focused on the thousands of refugees and recent immigrants the Lord has brought to our community.
Why: If your business learned that 80% of the community couldn't access your product, what would you do? In Seven Corners, our target neighborhood, 80-90% of elementary school children don't speak English at home.
Who: Leaders — Our leadership reflects the diversity of OVF. They speak English, French, Dari/Farsi, Amharic, Arabic, Spanish, Punjabi, Uyghur, Chinese, Korean, Japanese, and Urdu."
Neighbors — the whole world lives here! This is what the student body looks like at Justice High School in Seven Corners.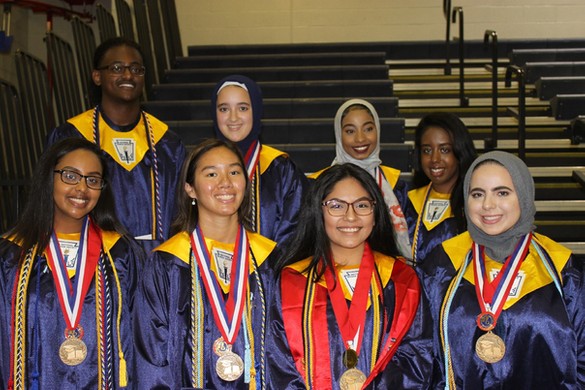 When the apostle Paul planted churches around the Mediterranean, he depended on the financial support of individuals and churches that shared the Great Commission vision: to "make disciples of all ethne" (people groups).
We invite you to partner with us, to contribute your money, wisdom, and prayers to accomplishing this vision. Would you consider being a monthly supporter, or making a generous one-time gift?
Our
Affiliations
One Voice Fellowship is a mission church of the Presbyterian Church in America, under the oversight of Alexandria Presbyterian Church and Potomac Presbytery. We are incorporated in the State of Virginia, and recognized by the IRS as a 501c3 non-profit organization. For more information, contact us.